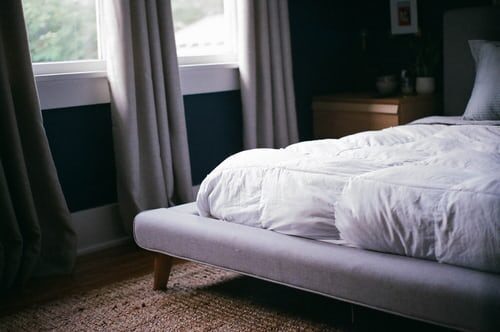 If you're on the lookout for a new mattress, figuring out where and how to start can be challenging. Do you purchase one from a store or online? How much should you spend? And how do you pick the size, design, shape, and material? There are a plethora of factors to consider. But here's a simple guide for you. 
There are five factors that you must keep in mind when shopping for a new mattress. Spend time evaluating each of these to find a mattress that fits your needs.
The age of your mattress
As a standard rule, if you've had your bed for a good eight years or more, it's time to get a replacement. Also, every material has a different expiry date so check out the average lifespan of the one you have. But more importantly, listen to your body; if you are experiencing pain on waking up, finding a comfortable sleeping position, or dips in the mattress that won't go away, it's time to say goodbye to it. 
Sleeping styles
While most of us switch positions frequently while we are asleep, some of us prefer a particular sleeping style — be it rolling over to the side of the bed or sleeping on our tummy. 
Back sleepers can opt for a medium-firm feel i.e. between the  5.5 and 7/10 range on the firmness scale. Softer mattresses (4-6/10 range on the firmness scale) will be suitable for side sleepers while stomach sleepers should pick an ultra-firm mattress (7-9/10 range on the firmness scale). Those who shuffle between all three styles should pick a medium-firm one that is ideally rated around 6.5 in terms of firmness, and will offer bounce and mobility. 
Firmness
Mattresses come with a range of "feels" — soft, medium, and firm. Your weight, body type, and size are crucial parameters to consider when deciding the firmness you want. For instance, those who weigh above 200 lbs and prefer a soft feel should pick a mattress that has at least 4 to 5 inches of foam, as they will possibly sink deep into the mattress while sleeping.
Type of mattress
Some popular mattress options include memory foam, latex, innerspring, and hybrid. Go for the memory foam if you're a side sleeper but avoid it if you tend to sleep on your stomach. The bouncy latex variant works best for combo sleepers. While the innerspring variety will be beneficial for those who need a lot of support while sleeping, don't pick this if you deal with back, shoulder, or hip pain. Hybrid mattresses are great for back and combo sleepers. 
Your budget
Assess how much you are willing to spend before you start shopping. Don't be influenced by advertisements and campaigns but focus on your needs. Ensure that you check the life span of the mattress as well as the warranty. If you're on a tight budget, shop around the holidays when sales are due!