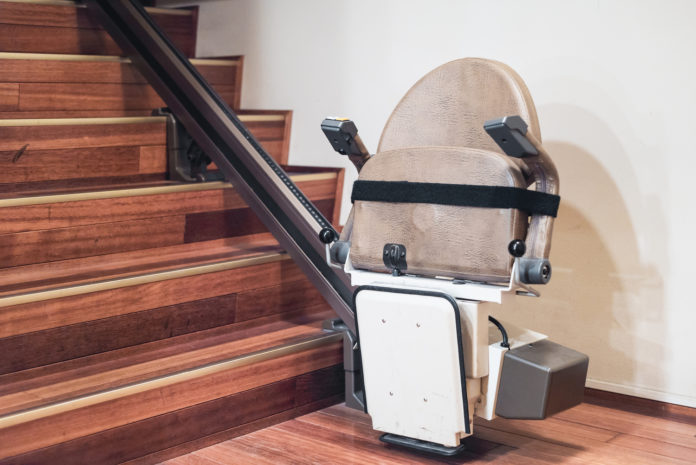 Thousands of senior American's agree, that the best way to maintain independence while aging is to invest in a stairlift. This device enables seniors with balance or mobility issues, to ride up or down their flight of stairs in a comfortable manner. A stairlift not only gives you the independence of living alone but also lets you live in your home because of the convenience offers.
In order to help you choose a good stairlift for your budget and needs, here are some tips and options:
Types Of Stair Lifts:
Today, you can find two types of basic lifts that are sold: curved and straight. Depending on the style of your staircase, you will have to opt for either one. Most straight lifts travel up and down a flight of stairs in a straight line. These cost between $2,500 and $5,000.  If you have a curved staircase, then stairlifts are a little more expensive since they need to move around corners and curves. These range from $8,500 and $15,000 or more depending on how complex your staircase is.
Another great safety feature of stairlifts is sturdiness. The lifts are mounted to the stair treads and not the walls. This makes it safe and easy to install. A majority of stairlifts today, have armest, seats and footstools, making it easy and convenient to use. These stairlifts also come with safety features such as seatbelts, footrest sensors, and braking systems. Some chairs allow you to easily call for help. Ensure you pick a stairlift with good safety features.
Different stairlift companies provide different modes of power. Some work on electricity while others are battery operated. Most battery-powered lifts charge at the base of the station and are smoother, quieter and better than electric lifts. If your area is prone to power failure, then it is best to get a battery-operated lift.
Depending on your insurance plan, a stairlift could be bought with fewer complications. You can also save money by purchasing a refurbished or used model. Some stairlift companies do offer EMIs too. To start, find a dealer who can put you in touch with a company.
We hope you have learned more about stairlifts and can choose the right one for your home.