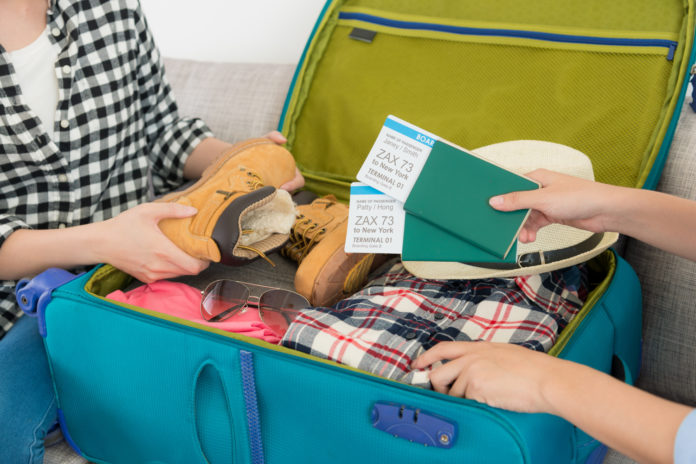 Roll Clothes And Pack Them First
The best way to make the most of your space and prevent creases is to use the roll method. While you pack pants, put the legs together and roll from the waist down. For tops, lay them facedown, fold in the sleeves and roll from the bottom up. Before you pack your shoes and accessories, place the rolled tops and pants in your suitcase; and then fit in hair tools and other oddly shaped items.
Pick Travel-Friendly Fabrics
Linen, cotton twill and other woven fabrics are prone to wrinkling. It is recommended to choose stretchy fabrics and knits while traveling. When these fabrics wrinkle, the creases will fall out when you hang them up.
Keep The First Outfit You'd Want To Wear On Top
If you know you're getting off the plane and going straight to a meeting or a dinner, plan your outfit accordingly and pack it last. This way, you won't have to dig through all your things to find it when you arrive and it will be less likely to wrinkle. 
Put All Heavy Items At The Base
Keep shoes, books and other weightier things by the wheel-end of your suitcase. Following this placement helps your bag maintain stability when upright and stops other things from getting crushed. 
Place Plastic Dry Cleaning Bags Between Clothes
Save the plastic bags that come with your dry cleaning. By layering them between your clothes, you can protect delicate items from accidental pulls. When your bag gets jostled, they help your clothes slide not snag and they also help reduce wrinkling. 
These blocks stack together easily and keep your suitcase organized. Additionally, these cubes are thin and lightweight so you won't lose any precious suitcase space. 
Avoid Under Or Over-Packing
Although you might be tempted to leave space for souvenirs, extra room means that items can shift and break or crumble. Use dry cleaner bags to fill up empty spaces and fill them later with all the shopping from your trip. It is also important not to over-pack: this is a sure way to create creases on your clothes and can make it tricky to repack when you're heading off to another spot or returning home. 
Organize Your Bag Of Liquids
To pass through security easily, stash any liquids you want in your carry-on bag in a separate, clear bag. Ensure that all the products fit in one quart-size bag and are 3.4 ounces or less. 
Keep The Necessary Medication In Your Purse
Even if you think you'd carry on your bag, you could have to check it in at the gate. Keeping your medicines in your purse ensures that you have what you need when you travel. 
Carry A Reusable Water Bottle
It's acceptable to bring a water bottle through airport security as long as it's empty. Fill the bottle up at a water station or an airport cafe once you're inside the terminal. This ensures that you stay hydrated and it's greener than having to buy plastic bottles while traveling.