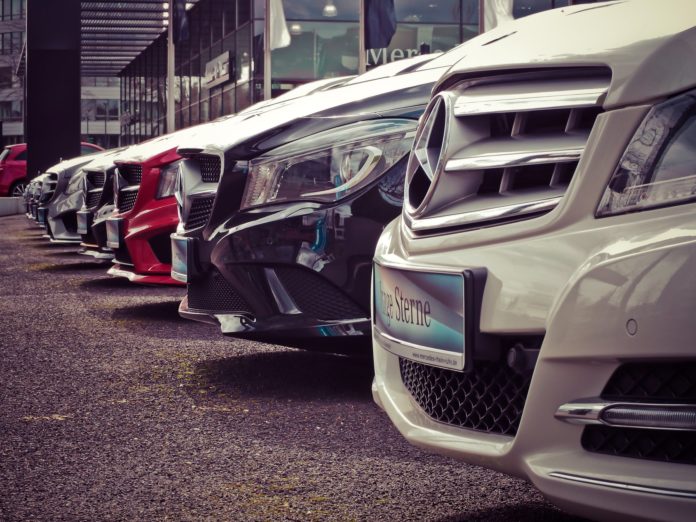 When you think of arriving somewhere in style, chances are, you're picturing stepping out of a luxury sedan. Luxury sedans are a classic – they were there before, and they'll be around long after the current SUV fad fades. 
While they all offer rides that are undeniably uber-luxurious and comfortable, here's how  8 of our top picks fared when we ranked them:
BMW 7-Series
Base price:
$84,645
The compelling exterior design of the 7-series features a larger kidney grille, plus redesigned bumpers and taillights that boast a slim silhouette with a seamless light band extending across the rear of the vehicle. Sit back and relax in a cabin fitted with heated armrests, massaging seats, and a top-notch rear-seat entertainment system. This luxury ride also comes equipped with a voice-activated BMW Intelligent Personal Assistant and a Panoramic Sky Lounge – the perfect complement to the captivating lighting experience inside the 7 Series. 
Jaguar XJR575
Base price: $123,695
When it comes to looks, this Jag is
sleek and seductive, agile and elegant. It offers an effortless driving experience and opulent interiors. It comes fitted with a
575-hp supercharged 5.0-liter V-8 and sports an uprated suspension and enhanced brake components. 
If you're looking for a ride that offers the perfect blend of unparalleled performance and ultra-luxury, look no further. 
KIA K900
Base price: $60,895
The 2020 K900 boasts a sophisticated design with
premium materials used
inside and out.
This grand, rear-wheel-drive sedan (all-wheel drive is optional) comes with a 365-hp twin-turbocharged 3.3-liter V-6 and is high on value as well as features. Noteworthy amenities include
Nappa Leather Seat Trim with Heated and Ventilated Front Seats, Apple CarPlay®
4
, Android Auto™
5
and customizable mood lighting.
Volvo S90
Base price: $48,345
The S90 is a sedan for the sophisticated – featuring an elegant design on the inside and out. An expansive cabin boasts exquisite craftsmanship and is fitted with a panoramic moonroof. The deluxe ride comes equipped with intuitive technology and advanced safety features. Buyers can choose from advanced powertrains that deliver impressive performance and efficiency.
Genesis G90
Base price: $70,345
With elegant styling and a first-class cabin, the G90 offers a distinctive collection of often overlooked finer touches like a signature 22-way adjustable driver seat, rear seat memory system and a quiet cabin. It also boasts features like a hands-free smart trunk, power soft-close doors, and adjustable ambient lighting. Other highlights include a 12.3-inch infotainment touchscreen, a head-up display, automated emergency braking, and adaptive cruise control. 
Audi A8
Base price: $84,795
The A8 is equipped with amazing tech including autonomous-driving features and an optional system that scans the road for imperfections and adapts the suspension to absorb them. As always, Audi takes lighting to new dimensions, and everything about the A8's design says, class. The car boasts an innovative Audi A8 MMI® touch response system, heated and ventilated 22-way power comfort front seats, four-zone automatic climate control, a panoramic sunroof, and Bang & Olufsen® 3D Sound. Passengers in the rear can avail of Matrix LED reading lights, a relaxation seat with a foot massage and a comprehensive connectivity package.
Mercedes AMG S-Class 
Base price: $150,545
Sumptuous luxury meets impressive power in this deluxe ride. Fitted with a 4.0L V8 that puts 603 hp in your hands, it boasts a 0-60 acceleration time of 3.5 seconds. The AMG S-Class is equipped with a reconfigurable widescreen dash and available Head-Up Display.
The AMG Adaptive Sport Suspension offers multiple modes that can be altered to suit your desires or meet the demands of the road below.
Its cabin also offers an impressive range of configurations, comforts and color choices, awash in Nappa or semi-aniline leather.
Mercedes Benz S-Class
Base price: $92,245
The S-Class, with its athletic exteriors and elegant interiors, is synonymous with luxury.
The cabin is sculpted, sewn and equipped with all the technological and comfort-driven trappings of modern Mercedes, setting a benchmark for luxury sedans and offering an unparalleled driving experience. Other boast-worthy features include top-notch entertainment choices, advanced ambient lighting, active body control, and enhanced autonomous-driving functions.